Architectural Fusions vs. High Pressure Laminate (HPL)
In a recent blog post, we highlighted how all architectural fusions (Altyno, Belbien, 3M-Di Noc) differ from HPL as an architectural finish.  The strengths of fusions become even more apparent when applied to curved surfaces.
Manufactured from kraft paper and phenolic resin, HPL is heavier and more rigid. This makes it difficult for curved pieces of millwork to be covered with HPL. In addition, the curve makes delamination more likely. A strong adhesive must be applied, and the product may need to be clamped to the substrate until the glue fully cures. Unless the manufacturer colors the core to match the finish, a brown, exposed phenolic surface remains on all edges. This takes away from the look of a more natural aesthetic.
A more pliable material, combined with a stronger initial set of the glue, makes a better option in most curved millwork. At 8 mils thick, architectural fusions can wrap around curved pieces with ease. In all honesty, fusions can be applied in areas that HPL simply cannot go.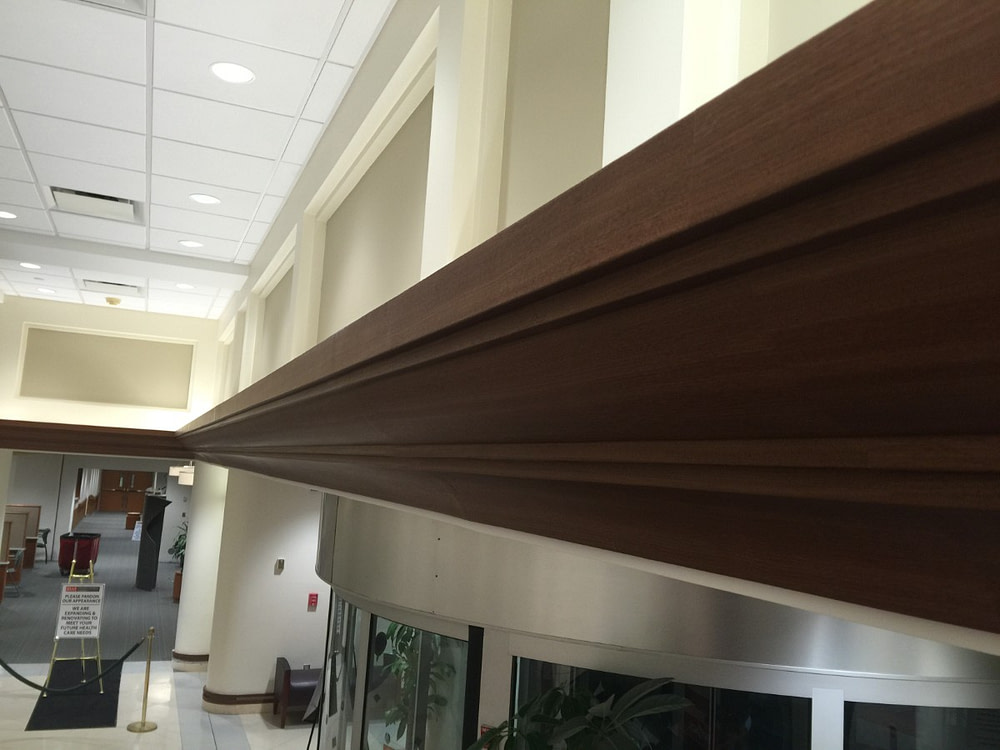 While crown moulding is an extreme example, it serves the point that some applications need architectural fusions. Curved pieces require a skilled installer. But, with over 1500 patterns available, fusions provide almost endless design possibilities. Take, for example, this curved banquette area.
Belbien Architectural Fusions as a Finish for Curved Millwork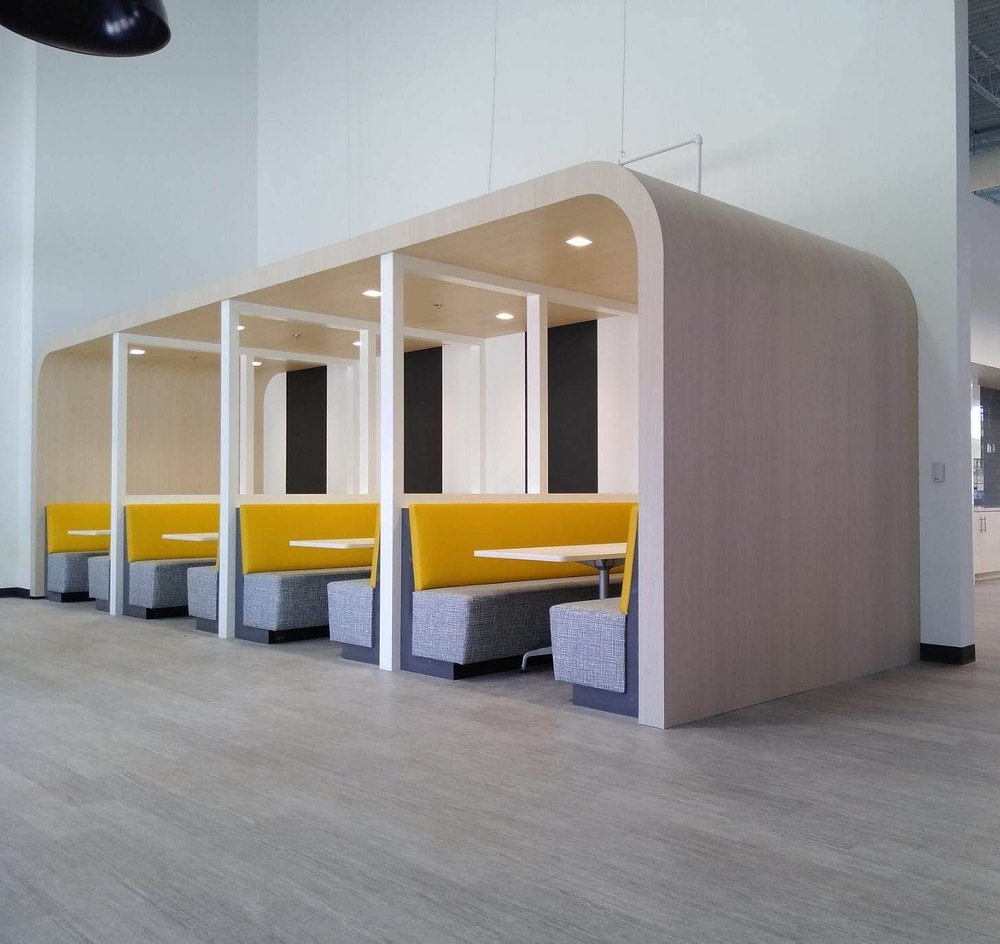 We partnered with the Atlanta office of Nelson Worldwide, Norton Contractors, and Commercial Cabinetry of Georgia to create this custom structure for an Atlanta area client. At eight feet wide and over 30 feet long, it represented a challenge structurally and aesthetically. It must be strong enough to support someone standing on top of it, but also look like a solid piece of wood, at a cost the owner would accept. With MDF as the core substrate, the millwork company engineered multiple sections in their shop.
Once delivered and the wiring completed, they joined the pieces together. Then, we took over to provide the piece its final look. Due to the porous nature of MDF, we primed the entire structure and sanded it to a level 5 finish. Next, we wrapped it, inside and out, and cut out the openings for electric. We sanded all edge seams, and completed any needed touch-ups.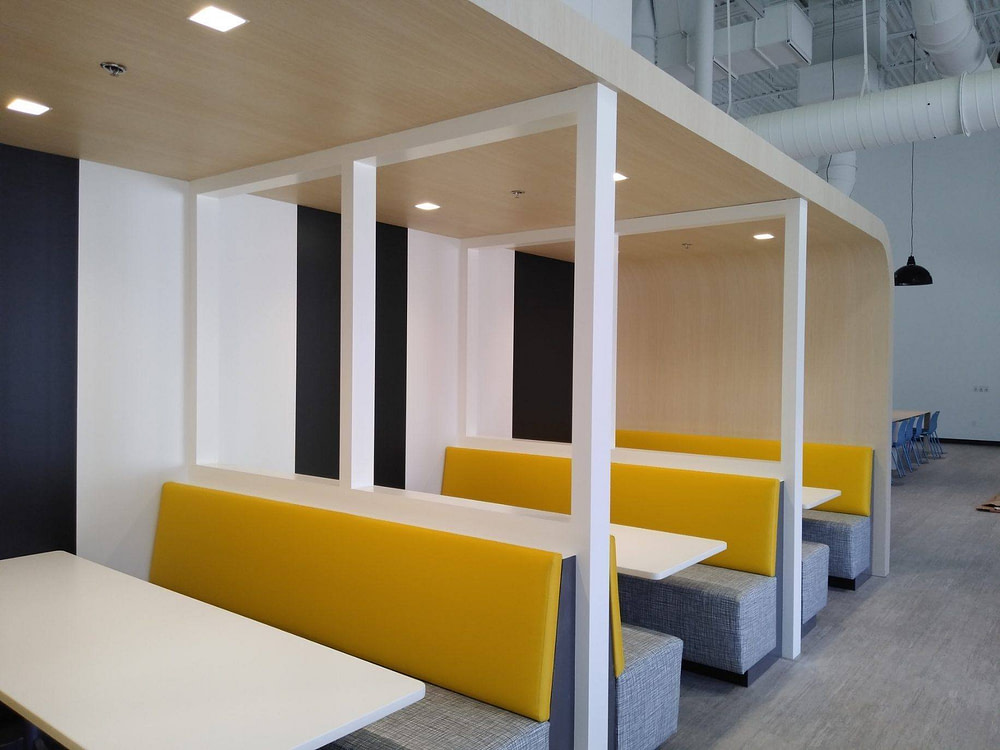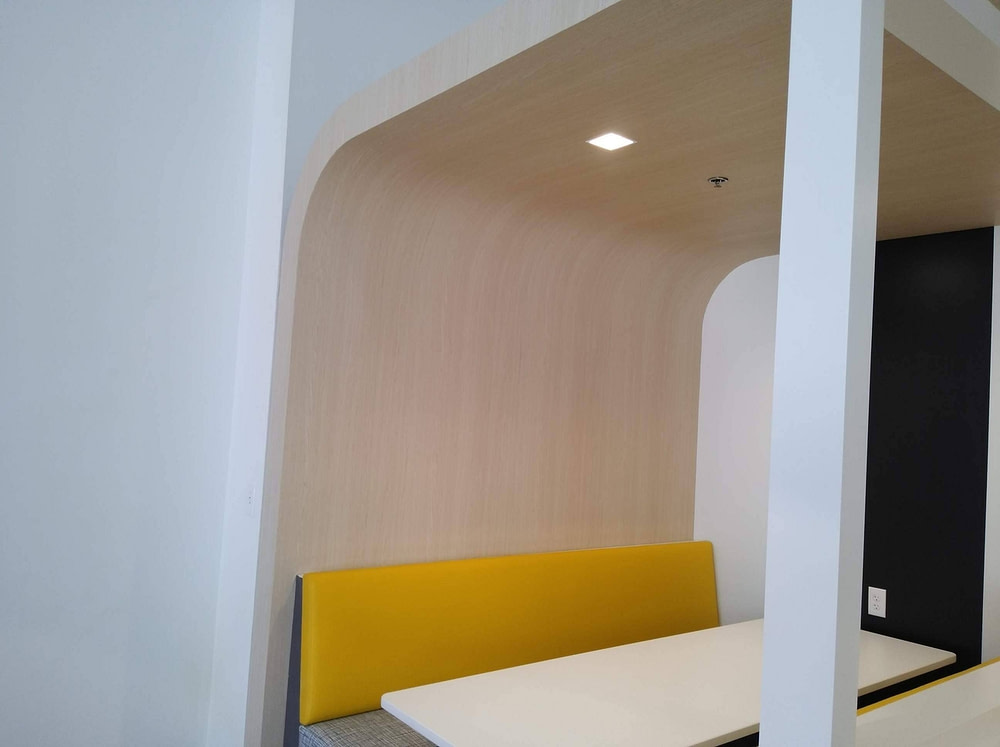 Architectural fusions simulated a wood finish. However, the owner and their customers will not see seams. And, the owner will not worry about delamination, water damage, or fading. At the end of the installation, the project manager said, "I totally understand why they specified this material instead of high pressure laminate."  
Visit our homepage and product pages for full installation galleries and testimonials. Need samples, catalogs, or answers to your questions? You can touch base with us through the form below or by calling us at 919-996-9730. 
Enjoy the article? Please share with your industry connections and help us to improve commercial construction.