Architectural Fusions are Architectural Finishes
What are Architectural Fusions?
Architectural fusions are one of many architectural finishes. They are thin, self-adhesive, vinyl overlays. They come in hundreds of patterns and often mimic the look of common finishes such as wood, metal, and stone. These offer a "peel and stick" application that uses a pressure sensitive air release system. As overlays, they typically cover, or recover, a wall or piece of millwork (cabinets, doors, wall panels, etc.). Manufacturers make an exterior grade of fusion, but most installations occur indoors.
Since fusions have this specific purpose, manufacturers create them with certain qualities. For example, most are calendared. A series of heavy rollers compresses the layers of material. Typically, they have a white base layer, a print layer, and an emboss layer.  Once printing has completed, a machine applies the adhesive, air release system, and release paper to the back. Installers apply the material by hand, and trim edges with a knife or fine grit sandpaper. Heat can be used to conform the material to a 3D shape, but the stretching may result in the white base layer showing through the print layer. 
Architectural Fusions Are Called Architectural Finishes, Vinyl Wraps and More
Unfortunately, manufacturers and distributors lack clarity in how they define the product. Architectural fusions have many names: architectural finishes, architectural films, and several that use the word 'wrap'. Sometimes "vinyl wrap" describes them. Other times, the type of application precedes 'wrap', as in "cabinet wrap" or "commercial door wrap". Other uses include 'foil' or 'form' such as thermofoil. 
These inconsistencies challenge our industry and prevent a proper understanding of architectural fusions. Brand names tend to be more understood than the product. Consumers know 3M Di-Noc, Altyno, or Belbien. But, they do not always know if those brand names represent a comparable value and product. In addition, they may Google the term "vinyl wrap'. But, websites for the car wrapping industry fill up the search results. Because of this, construction partners don't always have a complete understanding of the value fusions create. They also may not understand all of the finishes and options available to the project owner. This leads us to another point of confusion.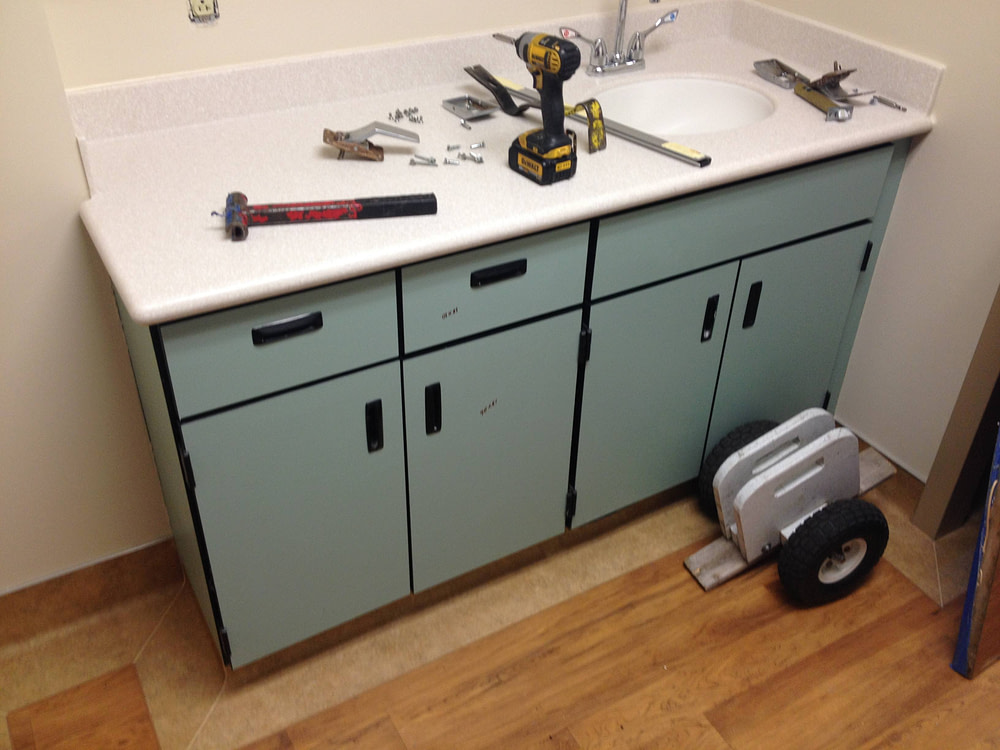 Not All Architectural Finishes are Architectural Fusions
By definition, architectural finishes complete the treatment of any horizontal and vertical surfaces while not necessary for the structural integrity of the building. The term applies to surfaces on the interior and exterior of the building. John Desmond Limited, an architectural metalwork & finishes specialist out of London, wrote a great post on the subject here. They even note that construction materials commonly used as structural elements, such as brick and steel, provide a unique beauty to buildings that goes beyond structural integrity. In our industry, architectural fusions get confused with two types of products: vinyl wall covering and high pressure laminate. These finishes may differ in three ways: type of product, method of installation, and location of the product. 
Architectural Finishes: Architectural Fusions vs. Vinyl Wallcovering
Fusions and wall coverings share some patterns and both contain vinyl. However, they are different in all three above areas. The adhesive represents the primary difference between the two. Wall paper adhesive is applied wet and just before the installation. This allows the installer to manipulate the paper to make it lay flat and align properly, and the glue provides a seal with the drywall. Manufacturers create wallpapers with various pattern repeats. This requires detailed planning for proper layout to ensure the desired look and avoid obvious repeats. 
Fusions come equipped with an adhesive already on the back. It initially grabs at almost full strength and needs just a few hours to fully cure. Because the adhesive provides no sealing capabilities, it cannot be applied to raw or common painted drywall. The wall must be sealed with one or two coats of 100% acrylic primer and sanded to at least a level 4 finish. If you do not take these steps, air bubbles and imperfections will telegraph through the fusion. In addition, by nature wall coverings only finish out walls. Architectural fusions finish out millwork, elevators, and more.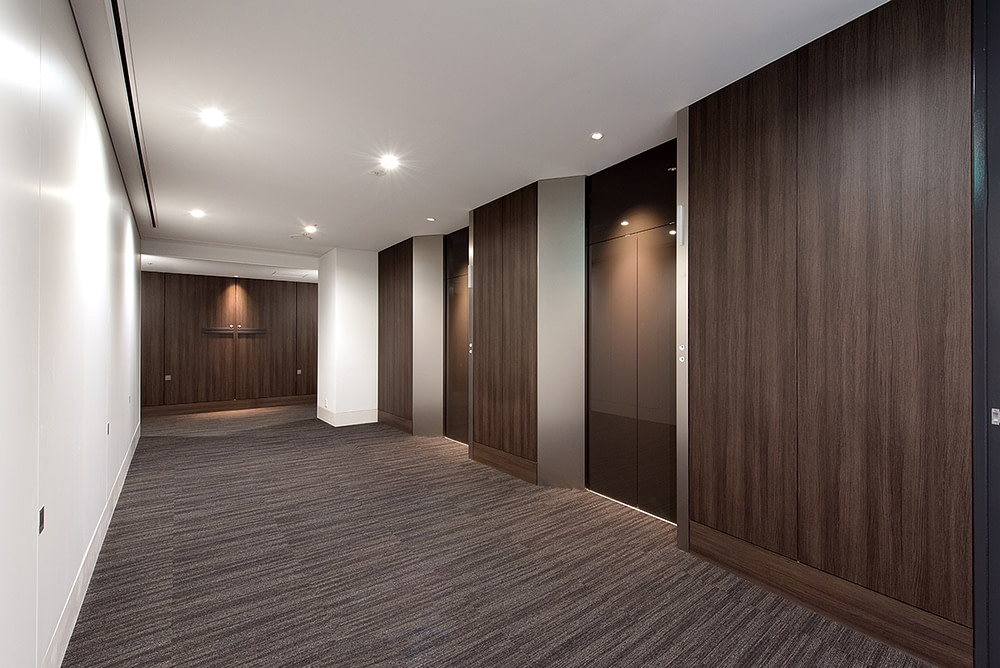 Architectural Finishes: Architectural Fusions vs. High Pressure Laminates
Architectural fusions and high pressure laminates (HPL) get specified in many of the same areas: doors, cabinets, large casework, wall panels, etc. However, they differ significantly as products and in the installation process. HPL is composed of multiple layers of kraft paper, saturated with resin, and fused together with high heat and pressure. The Composite Panel Association created a good resource on the topic: High Pressure Laminates.
HPL requires a good adhesive, often a type contact cement or spray glue. Common substrates include particle board or plywood. It also requires pressure or rolling out with a J roller. Due to its thickness, HPL requires a router to trim each edge. These factors create a process that can be smelly, loud, and dusty. Consequently, this installation process usually takes place in a millwork shop.  During relamination, the original HPL surfaces get removed with heat and scrapers. New HPL surfaces will be glued down and routed accordingly.
This does not occur often, however, as the work is difficult, time consuming, and dirty. Many milllworkers prefer to fabricate a new item rather than relaminate an old one. 
On the other hand, architectural fusions go directly over existing HPL surfaces. They are applied by hand with squeegees and trimmed with knives. The installation creates very little dust and noise, and will typically keep the business in operation during the renovation. 
What Types of Projects Use Architectural Fusions as an Architectural Finish?
Use Fusions in First Generation and Second Generation Spaces
Designers naturally specify fusions in renovation projects. Wrapping older finishes, rather than demolition and replacement, makes a lot of sense from the standpoint of green building, costs, and time. However, fusions can also be used in new construction. They represent a significant cost savings over wood panels and offer a finish that HPL cannot achieve.
Use Fusions When You Value Green Building, Cost Savings, Time Savings, and Repairability
Green Building:
Construction waste represents a significant burden to natural resources. Rather than pay to rip out millwork and fuel the landfill, wrapping with fusions preserves resources. It may also earn LEED credits for adaptive reuse.
Cost Savings:
As construction and energy costs continue to increase, budgets must become more strategic in their use. It is not uncommon for a door wrap project to save the owner 40-50% when wrapping commercial doors instead of replacing them. That number likely includes providing and installing door protection as well. Often, casework projects save clients 55-70%. When a reception desk costs $12,000-$15,000 to replace, wrapping will likely cost $4,000-$5,000.  
Time Savings:
For some industries, such as retail, downtime presents a costly reality. Temporary stores must get leased, fixtures moved, and more. That has a cost, but lost revenue impacts the client even more. In healthcare, shutting down a unit for one day may cost hundreds of thousands of dollars. Downtime may not even be an option. Other industries, such as cruise ships, have a clear, short construction timeline to renovate a space and get back to serving its customers. When you need a fast installation, look to architectural fusions.  
Repairability:    
Clients get frustrated when a damage occurs to a finish. Unfortunately, nothing is bulletproof (or gurney-proof, or delivery-cart-proof). Often, when damaged, a finish cannot be repaired and the millwork must be replaced. Fortunately, architectural fusions patch easily, quickly, and cleanly. Once the installer matches the pattern, they cut out the damage and inlay the new piece. In the rare case of significant damage to the fusion and the substrate, we fill in the damaged area and apply an entire piece of fusions over the old piece. In reality, we can wrap a piece of millwork multiple times before the fusion interferes with how the millwork functions.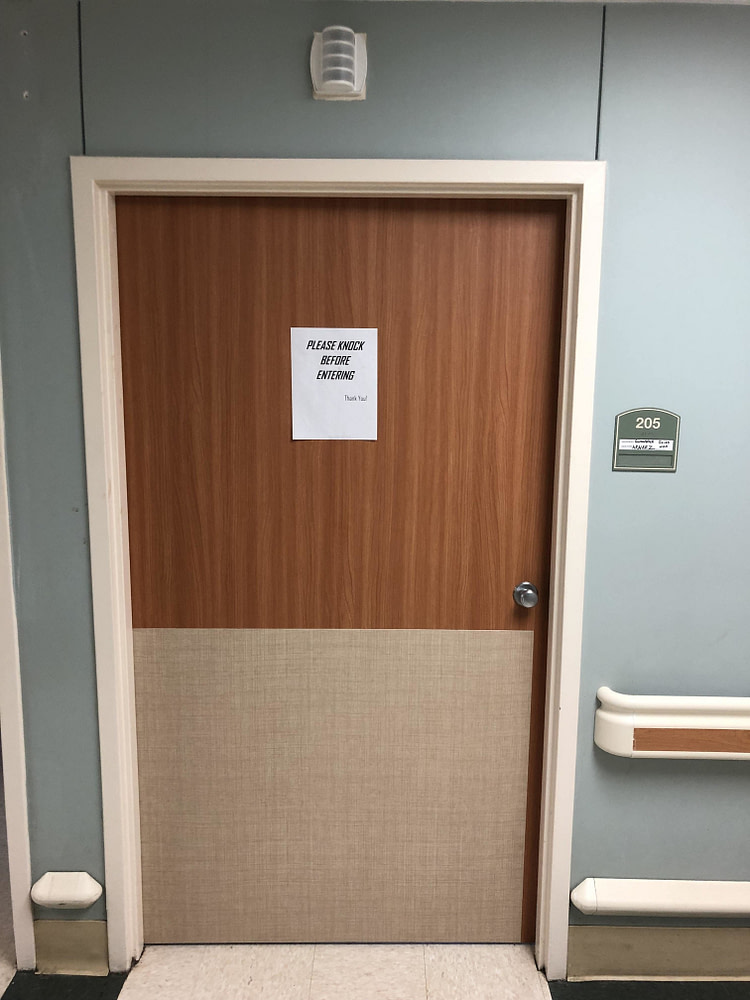 Applications For Construction Industry Partners:
Owners: You are strategic in your acquisitions and you should be strategic in your choice of architectural finish. Architectural fusions save you real money. They represent a valid alternative to wood, HPL, and the typical "rip out and replace" method of renovation. Request a quote to see how your capital budgets could change.
Architects and Designers: Be aware of all the options in fusions. Don't let your library be scaled down to one or two brand's catalogs. If you need a catalog, touch base with us below. We will ship one to you as soon as possible. Also, remember there are considerations for where to install a film and the division that you specify it. Contact us if you have any questions. 
Contractors: You are focused on the 'how' and identifying the installer. Don't assume a wallpaper installer understands how to install fusions. Consider vinyl car wrapping and window film installers in the same vein. Some of the skills overlap, but different materials handle differently. You want to make sure you have an installer that has been through a certification program specific to architectural fusions. We travel nationwide. If you need another bid, we would love to learn more about your project. 
The Bottom Line for Architectural Fusions
Architectural fusions are an architectural finish that should be considered anytime you want green building, cost savings, reduced timelines, and repeatability. Since they are different from wall coverings, HPL, and car wraps, make sure you have the right product for the right application, and the right installer for the right project. Have any questions or thoughts? Drop us a line below. We would love to hear from you.